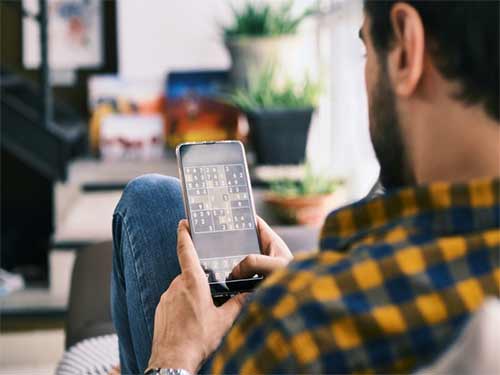 Top 10 Brain Training Apps
Performance is the main reason for pressure and stress in today's high-paced world. We are
constantly on the spotlight when it comes to getting whichever task done as quickly and efficiently
as possible that we often forget to take care of ourselves. We are always on the clock and this takes
a huge toll on our overall health and energy levels.
This is not something you should worry too much about though. There is no need to think you are
going crazy, let alone to start knocking on your friendly neighborhood therapist's door. All you need
is a little motivation. The following list will run you through 10 great apps to help you keep the juices
flowing and your mental health as sharp as ever.
1. Lumosity
Lumosity is one of the most respected, well known and consolidated brain training and mental
fitness programs in the market today. What makes Lumosity stand out is its games that mostly focus
on improving one's memory and problem-solving skills while also working on your attention span.
You can either play the game directly on their website or through their free apps for either iOS or
Android. Lumosity also provides a meditation and mindfulness app called Lumosity Mind. As an
interesting sidenote, studies performed on children with cancer-related brain injuries have shown
developments in memory and executive function after undergoing Lumosity-like brain training.
2. Sudoku
There is nothing wrong with going with a golden oldie and pen and paper favorite like Sudoku. With
no need for fancy graphics nor flashy animations, Sudoku is one of those puzzle games that will get
your brain focused for hours. Sudoku hasn't lost any of its appeal and it isn't hard to find a huge
variety of apps to choose from with a countless supply of variations to go with it. Not only does
Sudoku provide brain training, as it relies on short-term memory, it is also a great way of passing
the time and provides you with that added ego-boost every time you complete a puzzle!
3. CogniFit Brain Fitness
Created with the priceless contribution of neuroscientists, this entertaining app is aimed at
improving a user's levels of memory and concentration. Apart from being able to track your progress
as you go, you can also challenge your friends in an ever-satisfying battle of the brains! What is really
appealing about the app is that it adjusts the difficulty level based on your overall performance and
results. CogniFit Brain Fitness isn't time consuming and you will start seeing results with a few 20-
to-30-minute sessions per week.
4. Eidetic
Eidetic is a memory enhancement app that uses the repetition technique to aid users in memorizing
important information such as phone numbers, credit card details, passwords or even specific
words. Apart from this Eidetic also notifies you when it is test time, in an attempt to help you retain
information in your long-term memory. Eidetic is a very interesting app for older adults, particularly
those who are beginning to notice memory lapses. Apart from being free, this app is very userfriendly.
5. Braingle
Braingle prides itself in having the largest collection of brain teasers available with over 15,000
puzzles and games. Different from other apps, that focus on memory and reaction-based tests,
Braingle's approach to help maintain brain sharpness is through the use of riddles, codes and
ciphers, trivia quizzes and optical illusions. You can even play against your friends and family which
adds a lot of interactivity to this already unique product.
6. Personal Zen
Personal Zen's goal is to reduce stress and increase the user's well-being. According to the creators,
a 5–10-minute use may improve well-being while a continuous interaction of up to 40 minutes per
week may assist in significantly reducing your stress level. Another very important aspect of this app
is that it trains the brain to focus on positive aspects and provides strategies on keeping out
negativity that can have an unpleasant impact on your mental capabilities.
7. Elevate
Alongside Lumosity, Elevate is widely considered as one of the top 2 brain training apps today. With
over 35 games that track five different types of mental development, it is easy to see why Elevate is
an app to consider. Elevate pays special attention to reading, writing, speaking and math apart from
allowing you to customize your training and focus on whichever subjects you would prefer to pay
more attention to. As with most other brain games, you can track your progress to see how your
skills are improving. The app is free for both iOS and Android.
8. Peak
Peak is an iOS and Android oriented app that looks gorgeous with its very visually pleasing design,
game layout and highly intuitive flow. Peak delivers brain games to work on focus, memory,
problem-solving, mental agility as well as other cognitive functions. Its competitive side is also a plus
as you can challenge other users and are able to compare your progress with Peak's ever-growing
community. Should you have an Apple Watch, you can seamlessly integrate the app with it. Peak is
free to use and offers a subscription model should you be interested in trying some of its more
advanced features.
9. Crosswords
Alongside Sudoku, Crosswords are a classic brain trainer that combines not only verbal language but
also memory. This is possibly the most recognized form of brain training and surely the one we all
grew up doing, be it printed in the last pages of newspapers, magazines or in dedicated exercise
books. Crossword puzzles are easily found online via free or very cheap apps.
10. Happy Neuron
Happy Neuron splits its games and activities into five important brain areas: memory, attention,
language, executive functions, and visual/spatial, all based on scientific research. As is the case with
other renowned brain training apps, it tailors the training to your personal needs and tracks your
progress. Happy Neuron offers a free trial so you can test their product before purchasing it. The
monthly subscription is well worthwhile, allowing you to access its full content via their site and/or
Android app.